Source: Killeen Daily Herald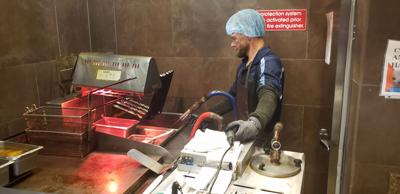 Filta technician and Killeen native Matt Myatt cleans the grease from fryers recently at Seton Medical Center-Harker Heights.
Cleaning and servicing industrial drains and recycling oil refuse is a dirty, nasty job, but Killeen native Matthew Myatt said he doesn't mind doing it.
"It is fast-paced and very busy," Myatt said. "I love to have fun when I'm at work but stay professional while doing so. I've established a great work relationship with all my customers as they have with me."
After eight years of active-duty service in the Army as a transportation soldier cross-trained as a hazmat certified fueler, Myatt said he found his current job at Filta Environmental Kitchen Solutions on Craigslist.
"The mission of the company is to provide service to customers that have a high volume of frying in their fryers," Myatt said.
That service includes maintaining "cleanliness of their fryers, and to extend the life of their oil to the fullest level possible," he added.
Myatt is now the area manager and lead technician for the Killeen area.
"I was born in Killeen in 1986 and lived there until 1991, then I moved to Troy, Texas," Myatt said. "When I got out of the Army, I decided to move back home — which is Bell County. I currently live in Temple and have been living there since 2015."
Zaxby's in Killeen and Seton Medical Center-Harker Heights are current customers of Filta Environmental Kitchen Solutions, but expanding the business in the area is one of Myatt's goals. He looks forward to building relationships with new customers as well, he said.
"I love my job and I plan to do this for however long my body allows me to," Myatt said.
Oil waste
The services provided by Filta Environmental Kitchen Solutions can double the life of an industrial fryer and removes liability associated with cleaning fryers and changing hot oil from restaurant staff, according to Pablo Gracia, Central Texas Filta franchise owner.
"Waste oil removal service is included at no extra charge," Gracia said. "That means you don't need the nasty, stinky waste oil bin that would otherwise be sitting behind your facility."
Fresh oil supply is also available at very competitive market rates, Gracia said.
"Not only can we usually save you money on your oil, but buying it at the time of service saves valuable space in your dry storage area," Gracia said.
The newest addition to the Filta line of services removes fats, oils, grease and sugars from floor drains, eliminating all of the odors, drain flies and clogs, he said.
"You should never have to pay a plumber for hydro jetting services and may even reduce the frequency of grease trap services," Gracia said. "We love the smiles the kitchen staff give us because they know they don't have to deal with cleaning and changing the oil. Filta services focus on safety and the environment while saving you money and enhancing your food quality."
Filta Environmental Kitchen Solutions can help companies save money by increasing the life of cooking oil and reducing the need for frequent calls to the plumber, Gracia said. The company also removes the stinky bin, which can incur a fine from the health department, he said.
Currently, the company only services commercial kitchens.
"We service hospitals, colleges, corporate buildings among others," Gracia said. "We currently work with Zaxby's and Seton-Harker Heights but are looking to help other business in the area."
The Austin-based company serves Round Rock, Cedar Park, Austin, Bee Caves, Buda, Kyle and San Marcos, Gracia said. Myatt manages their accounts in the Killeen, Temple and Waco area.
Filta Environmental Kitchen Solutions expanded its coverage to the Killeen area about three years ago, Gracia said, about the time Killeen reportedly faced issues with fats, grease and oil clogging city drains.
Killeen grease issues
"About three years ago, the city experienced severe and expensive problems with clogging of the filters at treatment plants due to excessive fats, oils and greases in the wastewater stream," said John Crutchfield, president of the Greater Killeen Chamber of Commerce. "As a result, the city passed new regulations mandating that commercial businesses install grease traps to filter grease out of their waste streams so the FOGs would not reach the treatment plant."
The Killeen chamber hosted several fat, oil and grease, or FOG, seminars for restaurants to eliminate confusion and acquaint businesses with the new regulations and with the equipment required, Crutchfield said.
"These proved to be very well attended and productive events," he said. "McDonald's provided, by far, the largest number of participants. So far as I know, most of the restaurants installed the proper equipment at the time and are in compliance with the regulations."
Killeen initially passed an ordinance addressing the disposal of fats, oils and grease in March of 2010, according to Hilary Shine, the executive director of communications for Killeen. But even with the latest ordinance, grease remains the primary cause of the blockages that do occur, she said.
"City ordinances have provided clear standards and enforcement ability," Shine said. "We also work to increase awareness by meeting annually with restaurants and sending educational information to residents."
Businesses and restaurants continue to be the primary cause for blockages, and Shine said residents can help prevent contributing to the problem and preserve the sewer systems in their homes.
It is best to pour grease in covered collection containers, and not down the drain, Shine said.
Scraps of food should be disposed of in the trash can — and avoid using the garbage disposal, she said.
A catch basket in the sink can catch food and debris to dispose of in the trash can before it goes down the drain, Shine said. Residents can create a compost pile with non-meat scraps to fertilize a garden, she said.
"Remove oil and grease from dishes, pans, fryers and griddles," Shine said. "Cool first before you skim, scrape or wipe off excess grease."
Recyclers and rendering companies can help reuse or recycle used cooking oil, Shine said, and environmentally safe cleaning products instead of hash detergents can protect sewer lines.
Recycled fats, oils and grease can be used for biodiesel, pet food and creating makeup products, Gracia said.
"We make sure all the oil collected is turned into biodiesel," Gracia said. "Other companies also use the oil to do makeup or pet food. We believe biodiesel is the best use for cooking oil."
Services from Filta Environmental Kitchen Solutions controls humidity, which can reduce food spoilage, and increase the longevity and quality of perishable goods, Gracia said.
While companies like Filta Environmental Kitchen Solutions harvest and reuse cooking oil from businesses, residents can recycle cooking oil for free at Killeen Recycling Center and Killeen Transfer Station, Shine said.
Responsible disposal of grease and waste can help prevent grease buildups from blocking sewer lines, Shine said. It can also save money spent on cleaning up sewage spills and protect the quality of our water, she said.
"Obviously, dumping FOGs in any wastewater stream is not a good idea: not only will they clog filters on equipment at treatment plants, FOGs will clog plumbing in the home or business as well," Crutchfield said. "Neither should FOGs be dumped on the ground where they could eventually wind up in the water supply."